How to get the best epoxy for concrete flooring in 2019
By Steven L. Williamson
Cement Shine
Houston, Texas
Updated August 03, 2019
As an epoxy floor installer with a few million square feet under my belt, I can tell you I am sick of hearing statements like:
"We have the best, premier epoxy around"
"the most durable epoxy around"
"This stuff will stick to anything"
"It's virtually bulletproof"
"it's military-grade"
"it's chemically resistant to everything"
"it's 100% solids resin so it is the best"
"it's UV resistant"
"it's harder so it's better"
"it's a moisture-resistant"
"low VOC's it's earth-friendly"
If you can Imagine I use A LOT of epoxies so I've heard everything from some of the most uninformed epoxy salespeople around looking to land a high-volume client. The statements above are so general and so misleading it's time to have a 'Come to Jesus meeting" on this topic.
How do you make any sense of these statements especially if you are in the business of installing epoxy flooring and have the task of ensuring the epoxy you install over time will be the best overall product for the long term of your customers' floor? Working with substandard materials can quickly end your epoxy installing aspirations.
How to get the Best Epoxy for Floors?
To start, let's take the first statement. "We have the best epoxy around"
Compared to what? Exactly. How do we compare epoxies or benchmark them to others?
If you were looking at comparing stocks because your stock-broker told you "This is the best choice" what would you do? You would grab a prospectus on the company and benchmark it against other stocks in the same industry.
If you were buying a car you would analyze the specs on the cars, comparing it to other cars in its class to make sure you bought the best value with the best specs for the type of car you want. Why don't we do this with epoxy coatings? Well, I have to, because when you spend millions on epoxy, you tend to learn a bit about epoxy quality, desirable and undesirable characteristics to find the best epoxy and value.
While some characteristics of epoxies are only learned from using the products you can learn a lot one important way.
You can determine this by looking at the product datasheets for the epoxy coatings you are comparing. They are the spec sheets or the prospectus of the epoxy product. You can learn a lot about a product by reading this document.
On the product datasheet, you should find standardized laboratory coating testing hopefully done by a 3rd party laboratory. If the manufacturer doesn't disclose these standardized test results by a third party then you can safely disqualify this epoxy coating as a candidate for your flooring.
Epoxy Coatings tests and what to look for on Product data sheets
First off you will need to look at what the product is recommended for. If you are using this epoxy for something it wasn't designed for then you need to know.
Solids Content
It may say 100% solids resin, it could say 95% or 65%. What does this mean? In short, in the coatings world, it means how much of this product will be present when the epoxy flooring cures or "dries."
Does this mean that 100% is better than 95%? Not necessarily. It just means the product doesn't evaporate and lose build. When looking for a primer, you might want a product that is 95% solids and 5% solvent.
Solvents are carriers that carry products. The solvent may carry the epoxy into the concrete substrate much more effectively than a 100% product. And on a 2nd coat do you think something with solvent will better re-emulsify the base to create chemical adhesion.
Maybe. The point is epoxies are formulated for different purposes and drawing a quick conclusion based on a products' solids content is elementary.
EPOXY VOC Content
If you are in the coatings world I don't have to tell you that in the US the EPA in recent years been increasingly focused on lowering the Volatile Organic Compounds. I can't say that low VOC's have anything to do with quality as many 100% solids epoxies have zero.
You also couldn't say that a product with low VOC's is safe as there are many toxic obscure solvents not regulated by the EPA or affected by VOC laws.
So low VOC' does not necessarily mean a product is safer or "earth-friendly" or less toxic as I can think of a number of resins that would put you on your knees, fumes that debilitate you, because your respirator is useless as the fumes absorb into your skin and eyes.
These are 'low VOC' products so don't confuse it with not being toxic or earth-friendly. It did take some time for manufacturers to reformulate their products after the stricter laws passed.
Recommended Epoxy Thickness and coverage Mils
Obviously applying an epoxy floor coating thicker than recommended would not be advisable. But when comparing apples to apples you may find that the coverage is lower or higher than the other.
Higher coverage is influenced by product viscosity and sometimes solids content. You could see how coverage and MIL thickness would have an inverse relationship. The thinner you spread it the epoxy the further the coverage. Is thicker always better?
It depends on the coating and what it's designed for. Some polyureas or polyspartics you wouldn't want to think because they would be too rubbery. Some primers go down thinner and some moisture barrier primers have to be a certain thickness or MILS to work properly so just follow the recommendations and realize this is one of many factors of your comparison.
How do you measure Epoxy Abrasive Resistance?
How do we compare epoxies' abrasive resistance among each other? A Taber abrasor CS-17 calibrase wheel with 1000 gram total load and 500 cycles. The Taber resistance test is essentially a piece of testing equipment that is basically two sanding wheels that are applied to a coating product at 500 cycles to determine product loss. 1000 mg of the coating is placed below the sanding wheels and sanded 500 rotations.
The sample is removed, cleaned, then weighed. The results are recorded in mg loss.
A product with 16 mg loss would be called more abrasive resistant than one with a 44 mg loss. But one thing to keep in mind polyspartic coatings may react much differently than a "normal" epoxy.
Do you need high abrasion resistance in a body coat or primer? Abrasion resistance is most important for Topcoats, and I don't many people using normally epoxies as topcoats as these days there are many better options. Looking at this data and knowing how not to interpret it is just as important as knowing how.
Epoxy Floor Abrasive Resistance testing equipment
HOW DO YOU MEASURE EPOXY ADHESION?
420 psi @ elcometer (concrete failure, no delamination)
A pull test following the guidelines of test standard ASTMD 4541 is the standard for testing adhesion in coatings. A floor usually fails somewhere between 400 psi and 500 psi. What we want to see here is a concrete failure, meaning
the concrete comes up with the coating. Generally, a cylinder is placed on the floor and through suction, it is pulled. If there is a concrete failure that's at 400 psi it doesn't mean failure at 500 psi dictates more adhesion it may just mean the strength of the concrete at the field test was stronger.
Do we judge urethane's to the same standard of adhesion when we know that they generally have worse adhesion direct to concrete? We don't typically use urethane's as primers so generally adhesion tests are going to be most important with primers or epoxies we are applying directly to concrete. https://www.youtube.com/watch?v=GRZ2aRCFoVg
Epoxy Coating Pull Test
DIFFERENT EPOXY COATING STRENGTH & DURABILITY MEASUREMENTS
WHAT IS EPOXY FLEXURAL STRENGTH?
9,700 psi @ ASTM D790
According to the American Society for Testing and Materials,
"These test methods are used to determine the flexural properties of un-reinforced and reinforced plastics, including high modulus composites and electrical insulating materials utilizing a three-point loading system to apply a load to a simply supported beam (specimen). The method is generally applicable to both rigid and semi-rigid materials, but flexural strength cannot be determined for those materials that do not break or yield in the outer surface of the test specimen within the 5.0 % strain limit."(ASTM*)
Epoxy Flexual Strength results
In general, the flexual test is bending the product at three points to determine at which PSI it fails. The higher the number the better the flexural strength. But humor me for a minute. Do you think if a 4000 PSI slab with 400 PSI flexural strength cracks that a 9700PSI flexural strength coating is going to hold the substrate together with vertical separation? I'm not an engineer but have probably seen more of this first hand.
* https://www.astm.org/cgi-bin/resolver.cgi?D790-17
https://www.astm.org/Standards/D790.htm
WHAT IS EPOXY COMPRESSIVE STRENGTH?
7,400 psi @ ASTM D695
Compressive strength is measured by crushing the epoxy in a press and measuring at what PSI the product fails. What if your 6 inch slab is 2000 PSI. Is a 12 Mil epoxy coating with 10,000 PSI going to strengthen the concrete floor? Probably doesn't hurt, but you see what I am saying. There are certain coatings or resins that are strong but perform much differently to compression so assuming that high PSI failure is best for every situation would be a generalization.
** http://www.astm.org/cgi-bin/resolver.cgi?D695
WHAT IS EPOXY TENSILE STRENGTH?
6,100 psi @ ASTM D638
Tensile strength in epoxy flooring is the resistance of a material to breaking under tension. This is also communicated in terms of failure at a given pounds per square inch(PSI).
WHAT IS A GARDNER VARIABLE IMPACTOR TEST?
50-inch pounds direct – passed
Falling Dart Impact (Gardner Impact) ASTM D4226 & ASTM D5420 is defined by Intertek Group as,
"Falling dart impact…. is a traditional method for evaluating the impact strength or toughness of a plastic material……The test sample rests on a base plate over an opening of specified diameter. An "impactor" sits on top of the test sample with a nose of specified radius in contact with the center of the test sample. A weight is raised inside a guide tube to a predetermined height, then released to drop onto the top of the impactor, forcing the nose through the test sample. "(Intertek***)
While there isn't a flooring epoxy that I know of that is bulletproof. With the garner variable impactor test, you are looking for a pass with the same procedures when comparing coating results. *** http://www.intertek.com/polymers/testlopedia/gardner-impact/
What is EPOXY SHORE HARDNESS?
Many are Shore D= 86 and better.
Shore hardness is communicated in terms of a scale from 0-100 with 100 being the hardest measurement. The test used is called a Durometer. The test involves a spring-loaded indenter. The depth of the indenter penetration
determines the measured hardness. According to Dr. Dmitri Kopeliovich, Founder of SubsTech, a leading professional on Materials Science and Engineering,
"Hardness of hard elastomers and polymer materials… is measured by Shore D scale. Two different indenter shapes (see the picture below) and two different spring loads are used for two

Shore scales (A and D). The loading forces of Shore A: 1.812 lb (822 g), Shore D: 10 lb (4536 g)." *,**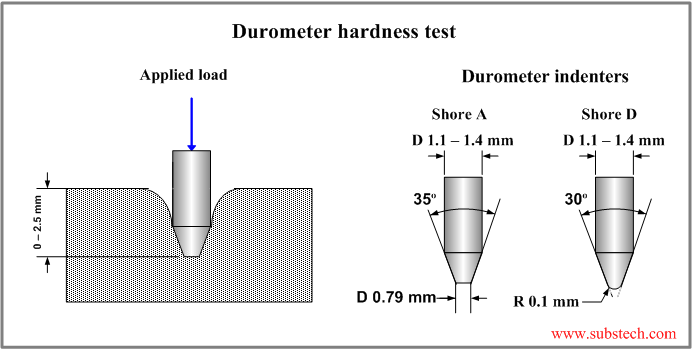 Hardness Testing Epoxy Flooring
Shore Hardness chart to compare Epoxy
* https://www.teknorapex.com/thermoplastic-elastomers-and-measuring-shore-hardness-chart **https://www.substech.com/dokuwiki/doku.php?id=shore_durometer_hardness_test
How to determine EPOXY FLOORING CHEMICAL RESISTANCE?
Chemical resistant charts are also featured on most product datasheets. Some epoxies have higher chemical resistance or different thresholds to different chemicals. The key is finding a coating that works best for the facilities' needs.
Chemical Product Epoxy Resistance to Chemical Product
Acetic Acid (20%) Excellent

Acetone Not Recommended

Acetylene Excellent

Alcohol – Ethyl Excellent (temperature < 120oF, 50oC)

Alcohol – Isopropyl Excellent

Alcohol – Methyl Good (temperature < 72oF, 22oC)

Aluminum Chloride Excellent (temperature < 72oF, 22oC)

Aluminum Fluoride Good (temperature < 72oF, 22oC)

Aluminum Hydroxide Good (temperature < 72oF, 22oC)

Aluminum Sulfate Excellent (temperature < 72oF, 22oC)

Amines Excellent (temperature < 72oF, 22oC)

Ammonia – Liquid Excellent (temperature < 72oF, 22oC)
https://www.engineeringtoolbox.com/chemical-resistance-epoxy-d_786.html
Conclusion for Best Epoxy Flooring Selection
In Conclusion,
the best epoxy, most durable epoxy, or most adhesive epoxy are just statements. These statements can be verified by interpreting testing results. In my opinion, epoxy flooring material should be chosen with floor use in mind.
Traffic type whether foot, vehicular, or airplane should be considered. You don't want to over-engineer an Epoxy Flooring system as you wouldn't want to under engineer one either.
Finding the best quality and value for your specific epoxy flooring needs should be determined by someone that has experience and understanding for interpreting these standard epoxy test results.
So the next epoxy salesperson that to says to you, "We have the Hardest epoxy ever made!" I expect you to retort with, "What were the results of its shore hardness test?"
Store Link